THE PLATE HUT
Presidential Inauguration License Plates of the United States
The first Inaugural license plates in the United States were issued to commemorate President Franklin D. Roosevelt's first Inauguration in 1933. Ever since then the District of Columbia has issued special license plates for every Inauguration with the exception of 1945. Due to the war and the metal shortage the Administration felt that the Inaugural celebration should be deemphasized. The 1933 Inaugural license plate measured 6 by 10 ˝ inches while all the other plates measured 6 by 12 inches (standard size of license plates in the United States and Canada since 1957). The red, white, and blue color scheme has been used on each Inaugural license plate with various designs and motifs. The shield of the District of Columbia (Washington, D.C.) was the main feature of the 1933 plate. Those plates for the Presidential Inaugurations of Franklin D. Roosevelt and Harry S. Truman in 1941 and 1949 had the District of Columbia shield and a silhouette of the United States Capitol Dome as the main motifs. The license plates issued in 1953 and 1957 for the Presidential Inaugurations of Dwight Eisenhower and Richard M. Nixon depicted oval-shaped pictures of both the President and Vice President. The license plates for Presidential Inaugurations for John F. Kennedy, Lyndon B. Johnson, and Richard M. Nixon (1961, 1965, and 1973 respectively) all shared the common theme of the American Flag along with the Capitol Dome, the flag of the District of Columbia, the White House, and the U.S. Capitol Dome. In 1977 and 1981 Presidential Inaugural license plates both featured a stylized American Flag while 1985 saw the inception of the Presidential Seal of the United States to the left of the numbers. Including within the Presidential Seal were the names of the respective President and Vice-President.
By an Act of the U.S. Congress, Inaugural license plates are usually ordered by the Inaugural Committee through the District of Columbia Department of Motor Vehicles. Customarily, Inaugural license plate Number 1 is used on the Presidential Limousine, and Number 2 on the Vice Presidential Limousine. Many high government officials, Senators, Congressmen, and other dignitaries receive Inaugural license plates on a complimentary basis. In 1933, 1937, and 1941, Inaugural license plates were available to only a select group of people. Since then, however, the plates have been available to the general public with lower numbers being reserved for various dignitaries. Completing a full set of these colorful highly coveted license plates is quite a challenging task.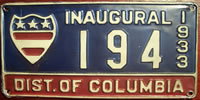 For other D.C. plates click here
---
For any information or to place an order, please email me at plates@platehut.com.
Copyright 2009, Platehut.com